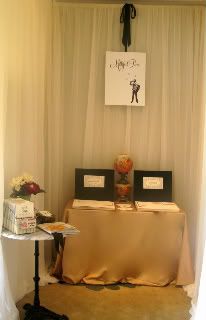 I'm back from my whirlwind trip to Los Angeles! I had a really fun time at the Wedding Salon event and a big thank you to all who came to see me. It was really great to meet so many people and I hope everyone had a great time. 
Here is a little picture of my booth. 
I like how everything came together—and simply. 
I'd never participated in an event like this and I was humbled to see how much work goes into this kind of thing. The entire process from planning (starting a few months ago) to creating pieces to show, to actually getting your stuff to the event and setting up. My hat's off to those who do this all the time—and so many seem to do this so well. I'll try and post more pictures later but some of the participants completely blew me away. There was an entire room filled with hand-sewn real flowers hanging from the ceilings. It was amazing.  We all had the bones and backdrop of the Beverly Hills Hotel to work with so it was all  pretty stunning. 
Non-show related, my friend (and I mean this—she's a total champ and helped me with this entire process and then some), B, and I had the most amazing meal at the
Hotel Palimor
 afterwards. It was pretty late by the time we got down from our room to eat and we luckily fell into the hands of the fabulous Michael, who kept bringing us the best food and drinks ever. I didn't expect to have such a fun, full experience on top of such a fun, full day.