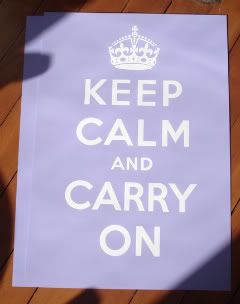 I love these posters that Victoria at
sfgirlbybay
creates. 
They are reproductions of a popular poster used during World War II, in England. 
I feel like the past few weeks have been pretty heavy for many people—the economic ups and downs coupled with the upcoming Presidential election make for a stressful time.
How are you all coping with it? 

All is well here, but I have found myself doing a constant laundry list of friends and family and even slight acquaintances, worried about how they're all faring right now. I've been saying the above in my head, so I guess it's only fitting that I go to her
shop
and buy one. 
{And thank you to my sweet friends who responded to my previous post!}