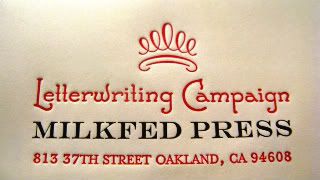 We are well into the new year, and I thought I'd share a possibly incriminating New Year's Resolution. You see, I grew up writing letters. I love writing letters. One of the major reasons that I got into design and letterpress printing was because I absolutely love making (and receiving) great stationery. I love the USPS, I love shopping for stamps—the whole she-bang. But in the last year I've absolutely slipped with any personal hand-written correspondence. 
I know—the shoemaker's shoes and all that. But here it is. SO, I'm outing myself and I've started a new campaign to encourage you, Dear Reader, to also start the year fresh with some hand-written notes. 
How can you benefit? Simply send a 42 cent stamp to me at the above address and you too can join in on the fun. Make sure you send along your address, too!