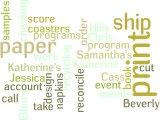 It's Sunday morning and Astrid (my daughter) is taking a nap while Chris (my husband) is at his music lesson. We've had a busy week with Grandma and our niece in town, and I'm keeping up with so many projects at the press. I have a lot of big and exciting changes up ahead and more on that later, as things start to unfold. I think it's been a really great Summer and I'm grateful for the time I get with A. and the ability to run my business. 
I guess I have the Sunday-morning reflecting going on and I will typically make a big fat list for myself for things to do in the upcoming week.
I was making my Monday-list, and found this fun (distracting!)
website
which make my list of things-to-do (from the fun—printing(!) to the boring/necessary: reconcile checking account) tomorrow look really pretty.